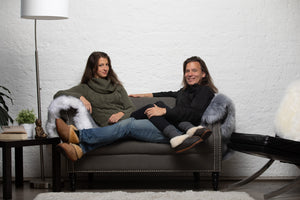 Most Loved
---
We've been outfitting folks in sheepskin since 1979, and some definite favorites have emerged...

Our commitment to crafting the highest quality sheepskin products applies to every piece we make. While all of them have been prized possessions for many, some have become iconic Ithaca Sheepskin products. Our baby booties were the inspiration for the entire business, and today we sell them to people who wore them as babies and are now looking to outfit their own babies in them. The Best Sheepskin Slippers are the best because they don't just convert people to wearing sheepskin, they make slipper wearers of people who never paid slippers much mind in the past! The Basic Vest could become one of the most useful things you own, a Tibetan Lamb Boa can make any day more fabulous, and our hats quickly become something to look forward to every winter!
We can't stop raving about the sheepskin rugs and throws, so we will just let you know that Mark thinks the coziness is so addictive that they should come with a warning...
---
Sorry, there are no products in this collection.