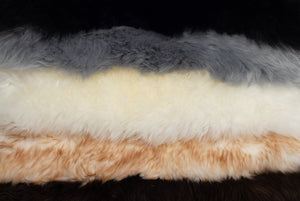 Sheepskin Rugs & Throws
---
What one item can be a perfect accent piece, coziness amplifier, circulation aid, meditation seat, camper's sleeping mat, and more? An Ithaca Sheepskin fleece!

We have been amazed by the many applications we have learned and continued to learn for a single fleece, often referred to as a sheepskin rug or throw. Beautiful, long lasting, and multi functional, we are constantly finding new ways to appreciate them.
We have worked with many different fleeces in our shop, from the classic single sheepskin rug fleeces to shaggy Icelandic sheepskins, delicate and curly Tibetan Lamb, larger multi sheepskin rugs, and therapeutic medical fleeces.
Keep an eye on this section, as we will be expanding our online offerings in the coming months. In the meantime, enjoy these time-honored staples...
---