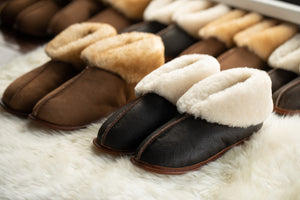 Sheepskin Slippers
---
You don't end up with The Best Slippers by compromising

Before we pick up a blade in the shop to make the first cut, we're already off to a great start, because we are working with the highest grade New Zealand and US sheepskin available. The suede is buttery and pristine, and the wool is dense and soft.
We cut each piece with care, orienting it to maximize strength in stress points and softness where is has the greatest impact on your comfort. We sew every seam twice to insure its integrity.
No wonder slippers are our best selling product! They are unparalleled for comfort, of the highest quality, and they will last you for many years. We have frequently repaired slippers that finally gave out after many years of wear.
Our sheepskin slippers have become a favorite of many families, and we make them for adults, children and babies alike! We also sell plush sheepskin insoles that can freshen up the feel of a pair of worn-in slippers, or help you bring some of the comfort of sheepskin slippers to your rubber rain boots!
---